JTC Trade Mission to China 2014
Beijing//Chengdu//Guangzhou//Hong Kong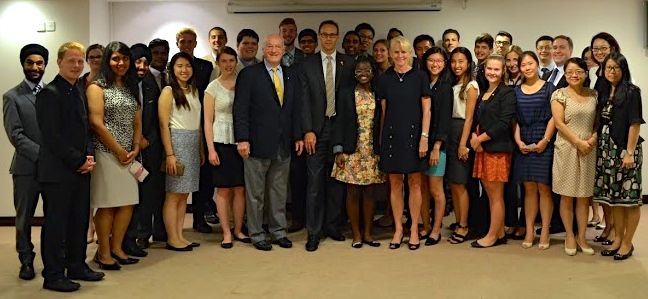 On July 28th, 2014 Global Vision and 27 of the country's finest young leaders departed Canada for a four-city, fifteen day Junior Team Canada trade mission to the People's Republic of China to promote bilateral trade and people-to-people ties between the two countries. On the heels of Minister of International Trade Ed Fast's trade mission to China in May, Junior Team Canada supported the government's Global Markets Action Plan by engaging Chinese industry, government and civil society leaders to market Canada's strengths and identify business opportunities for partner-enterprises back home. In addition to completing individual mandates provided by their Canadian partners, JTC focused on researching the Government of Canada's priority opportunity industries in the Chinese marketplace: Agriculture, Education, Environmental Remediation, Manufacturing and Natural Resources.
Starting with our meeting with Minister of Foreign Affairs John Baird and Chinese industry leaders in Beijing, Junior Team Canada 2014 established a truly Golden Rolodex in China which opened new doors for Canadian enterprises, resulting in real partnerships. In our mission report- coming soon- you will find on-the-ground market intelligence gathered, business opportunities identified, and a Golden Rolodex of key contacts for any organization or individual looking to break into the world's fastest growing economy, China.
Check out our Resource Guide- Click Here
Check out the Mission Report!